Frequently asked questions
Where are you located?
---
Our home base is in Nottingham, NH, but we also provide regular training programs in Dover, Portsmouth, and Hampton, after school programs across NH, and consulting nationally and internationally.
---
How do I sign up for training?
---
As easy as 1, 2, 3! We use Acuity for registration and payment processing, allowing you to find, schedule, and pay for any program in 3 easy clicks.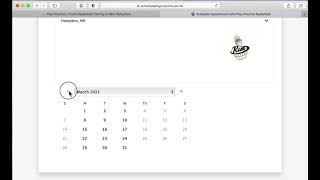 ---
What if the schedule does not show a time that works for me?
---
Our schedule is updated weekly, and we book gym space a month in advance, so check back if your desired date is more than 3-4 weeks in the future. If you want to get started right away and don't see a time that fits your needs, email us at info@play-practice.com and we will work with you to find a time and location that is satisfactory.
---
What is Homecourt, and how do I access my workout film?
---
The Homecourt app can be downloaded here (currently for Apple devices only) Find BJ Mumford, or request to join the Play-Practice team to see all of our player workouts, and create your own profile to allow us to record for you when you come to a workout! Read more about HomeCourt at Homecourt.ai
---
---